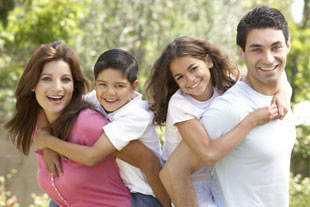 As a Troy family dentist office, we are passionate about providing our patients with dental care in a way that is holistic, comprehensive, and mercury-free. If you are looking for a 48085 dentist who considers the overall health of your family, that's us. To schedule an appointment with Thanasas Family Dental Care, call (248) 260-2878.
11 Dental Care Tips From a Family Dentist
#1 – Drink more water.
As a preventative dentistry office, we understand the importance of maintaining saliva production. Drinking plenty of water is essential for preventing dry mouth, a common condition that will give you bad breath and increase the chance of you developing cavities, infections, or gum disease.
#2 – Eat a mouth-healthy diet.
We are a Troy, MI holistic dentist and we take that role very seriously. When patients visit our dental office, we take the time to discuss things like diet and point out which foods could be harming the teeth. Danger can come from natural foods as well, so even things like lemons and limes should be eaten in moderation since the acid can erode your teeth.
#3 – Buy a new toothbrush.
When you visit a 48085 kids' dentist, there is a good chance you will be given a new toothbrush to take home. You should certainly use it, but that is not the only time to get a new brush. As soon as your toothbrush starts to smell, look stained, or the bristles fray, it is time to buy a new one. This could be around the three-month mark, but this is different for everyone. Staying on top of this will prevent bacteria from re-entering your mouth.
#4 – Use the 2-2 rule.
When you are brushing your teeth, be sure to brush for two minutes at a time, twice a day. The two minutes is a guideline, but at Thanasas Family Dental Care, we tell patients to feel their teeth and see if they are dirty. If so, brush longer.
#5 – Move plaque away from your gums.
Remember to brush the plaque and food particles away from your gums and toward the center of your mouth. The goal is to keep plaque off your gums.
#6 – Floss daily and correctly.
As a Troy, MI family dentist, we regularly teach patients how to floss their teeth. It is common for people to stop where the gums begin, but this is a mistake. Plaque will develop further down, so you need to floss all the way along your gum line next to your teeth.
#7 – Try dental sealant.
At Thanasas Family Dental Care, we regularly provide patients with dental sealant in order to reduce the likelihood of them getting cavities. Sealant can create a barrier between the tooth and the food you eat or the plaque that can form on your teeth.
#8 – Have your teeth cleaned twice per year.
As a kids' dentist in Troy, we recommend that you bring your entire family to our dental office for a bi-annual teeth cleaning. This will allow us to remove the plaque and bacteria that has built up, reducing the likelihood that you or your children will develop cavities.
#9 – Wear a night guard.
If you grind your teeth at night, you could cause damage to them or your restorations. As a preventative dentistry office, our goal is to minimize the potential for damaging your teeth. A night guard will prevent grinding and clenching, effectively doing so.
#10 – Use a mouth guard when playing sports.
When you visit our holistic dentist office, we can provide you with information regarding mouth guards. These are an excellent way to protect your teeth and ensure that you do not suffer from a sports-related injury.
#11 – Avoid restorations with mercury in them.
We are a 48085 mercury free dentist office, and all of the materials we use are entirely safe for you and your family. When selecting a family dentist, we encourage you to visit our office so the dental care you receive today will not negatively impact your health in the future.
As a holistic dentist and mercury free dentist, we are focused on the oral health of your family today and well into the future. Working together, we can help you maintain excellent oral health as you age, so you can maintain your natural teeth. To schedule an appointment with our dental office, call (248) 260-2878.
---
---
Related Posts
November 15, 2018
A typical day in the average American household includes many things: soccer games, determining what to cook (or pick up) for lunch or dinner, carpools, dance lessons, after-school events, school board conferences, and the list …
---