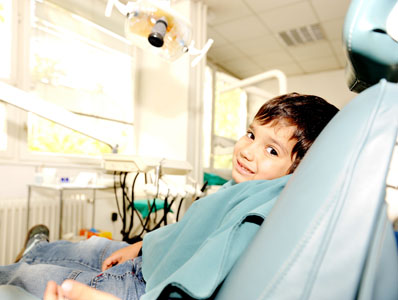 If your child needs to improve their oral health, there is no better place to visit than a dentist in Troy. We know how to treat your children so they have healthy teeth and gums for a lifetime. We understand that it begins when they are young because any positive habits they create today will be positive habits that they will maintain as they grow older. For example, if you teach your child to floss now, they are unlikely to think of this as a major issue as they grow older. If not, they will be like many adults who find flossing to be too much of a hassle, increasing their risk of developing gum disease.
To make it more likely that your children will be interested in maintaining good oral health, we suggest that you make it fun. Everyone responds better when they look at tasks as something they want to do, rather than something they have to do. By creating your own tooth fairy magic, you can help your children develop good habits because they want to. Here is how:
#1 – Make every day an adventure.
Your kids can have a great time getting ready in the morning and before bed if it involves an adventure. Think of a fun game you can play with them and do things like rescue teeth from the local villain or go brush teeth so they are ready for the fairy ball. Think about the ways your children have fun, the characters they like, etc., and incorporate that into your daily routine.
#2 – Create a special plan for when they lose a tooth.
As a dentist in Troy, we have many fun ideas for bringing Tooth Fairy magic into your home. These include:
Read books with your kids about losing teeth and taking care of them.
Watching movies, like "Rise of the Guardian," that feature the Tooth Fairy.
Give your child a prize when they lose teeth instead of simply giving them a dollar or two.
Buy them a new toothbrush every time they lose a tooth.
Buy a fairy night light and have it dance across their ceiling at bedtime.
Let them stay up a little later so they can keep an eye out for the Tooth Fairy.
The ultimate goal is to make it special and exciting to lose a tooth. In fact, you may also want to snap a picture of your child's toothless smile and create a memory book. Both you and they can have fun looking at their silly photos later on, and you can even write down notes about what they were doing when they lost that particular tooth.
#3 – Remember the uniqueness of your child.
Each child is different and that difference should be celebrated. You can have an excellent time with your child while promoting good oral health. Whether that means using the myth of the Tooth Fairy or creating adventurous games, the fun you have today will produce positive results.
Schedule a Dental Exam
By bringing your child to a dentist in Troy, you will be taking an important step for their oral health.
---
Related Posts
October 16, 2017
As a neighborhood kids' dentist, we enjoy treating our little patients. It is important to us that we help them to stay in good oral health to avoid cavities and toothaches. Being a kid should …
---